Bar Rye
Danish sandwich. It is a classic that many people love, and we understand that well. If you are looking for an eatery in Copenhagen that serves good Danish sandwiches, you may want to take a closer look at Bar Rye. At Bar Rye in Copenhagen, you can get a taste of a variety of different sandwiches. You will find the wonderful location in the heart of Copenhagen, namely on Badstuestræde 4, which is a side street to Strøget. It is easy to find, even for those who are just visiting the capital.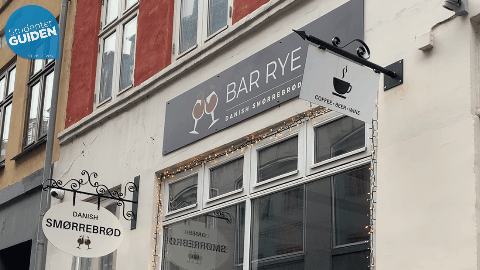 When you enter Bar Rye, there is no doubt that something has been done out of the decor. The beautiful rooms create an ideal setting for a good dining experience.
When it comes to the selection of sandwiches, there's really a lot you can choose from. On the menu you will find everything from sandwiches with salmon, brie cheese and the classic with eggs and shrimp. The possibilities are many, and there will certainly be something for everyone. The range of drinks at Bar Rye is also really big. You can order anything from water, snaps and drinks to beer and wine at Bar Rye - it's up to you what you think is best for the sandwich you order!
Bar Rye has on their website various pictures of the delicious sandwiches. If you are interested in seeing this and get some inspiration for what you might order from Bar Rye, then find the gallery here.
If you think Bar Rye sounds like a place for you, you can read much more about them, menu cards and the like on the restaurant's own website. If you are interested in reading about what past guests have written about the place, you can also check out Bar Rye with great benefit on Facebook. Here are a number of reviews from previous guests, so you can quickly create an impression of the restaurant.
Do you have a friend, boyfriend or family member who loves sandwiches? Then a gift card for Bar Rye can be a really good and different gift idea that most sandwiches enthusiasts will be super excited about. On the restaurant's website you can find more information on how to buy a gift card for Bar Rye.
If you love good quality sandwiches at reasonable prices, then Bar Rye might be for you! The beautiful premises help create the framework for a good dining experience in the heart of Copenhagen's vibrant city life. Bar Rye is an ideal place to have lunch after a lecture with the study group or as a break from the shopping trip on Strøget with the girlfriends.
---
---
Address
Badstuestræde 4
1209 København K
Contact info
Telefon: 40 94 80 00
E-mail: info@barrye.dk
Opening Hours
Mandag - fredag: 11.30 - 16.30
Lørdag: 11.00 - 17.00
Søndag: 12.00 - 16.00
Website
https://www.facebook.com/barryecph