Recommended Studenterguiden.dk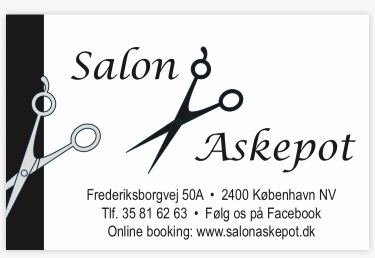 Salon Cinderella
Lovely centrally on Frederiksborgvej in Copenhagen NV is the cozy hair salon Salon Cinderella. Here they carry out skilled hairdressers all kinds of hairdressing treatments with great expertise. Their beautiful creations, quality extensions with either real or artificial hair and beautiful make-up is intended to highlight, and you need to have the big makeover, they are also trained in how to apply make-up, so you can highlight your best features.
At Salon Cinderella is important that you always get the best service, and they also endeavor to make treatment an experience. You are never in doubt that the sweet hairdressers love their work, and they always make sure that you as a customer feel comfortable and welcome. There will be at each treatment set good time off, so they are listened to customers' individual wishes and needs. They ensure that you can sit back in your seat and enjoy a moment of relaxation while your hair is transformed.
Book your time is already here and enjoy a wonderful treatment in the salon!
In the salon, they have a great selection of the best products such as Kerastase, Paul Mitchell and others - Of course, stands salon hairdressers ready to advise and guide in what products will fit perfectly to each customer and their needs. The attractive prices at Salon Cinderella makes that even students can join, but not only that prices have to pay from, there are also student discounts.
A few of the great reviews from Salon Cinderella's Facebook page says:
"Extremely good treatment and definitely only a hair salon that you can recommend. I went from long hair to just above shoulder length. This was a "big step", but Pia knew exactly what I had in mind and although I was bad to explain what hair color I wanted, she hit it exactly! I am definitely a returning customer "
"Super good service and fabulous haircuts :-)"
"Highly recommend a haircut at Salon Cinderella (Nanna) - super good service and very professional."
Studenterguiden.dk have only seen and heard good things about Salon Cinderella. Advantageous study rates cut and color, sweet and welcoming staff and not least a cozy salon, is undoubtedly the reasons why the salon is so well attended. The fresh hairdressers stands ready with nyslebne scissors, and you have a question for a new hairstyle, help they want. We can highly recommend a visit to the salon.
Book your time now - Right here!