Posins Hairdresser
If you want to visit a hairdresser at Trøjborg in beautiful Aarhus, which emphasizes high quality, then Posin 's Hairdresser is an obvious choice for you! The salon is located at the address late Tordenskjoldsgade 1 in 8200 Aa rhus N.
When you step in at Posins Hairdresser, you will soon notice that you get a luxurious haircut experience that is out of the ordinary - the owners, Martina and David have provided . It is very clear that the quality is high here in the salon. All the hairdressers that you meet at Posins Frisør have a 4 - year hairdressing training, and they therefore stand All ready to give you a good and professional experience. When you open the door to the beautifully decorated salon, you will meet a very welcoming team of hairdressers who welcome you with a big smile. If you choose to book a time for treatment at Posins Frisør, you will thus be in very safe and highly professional hands throughout the treatment.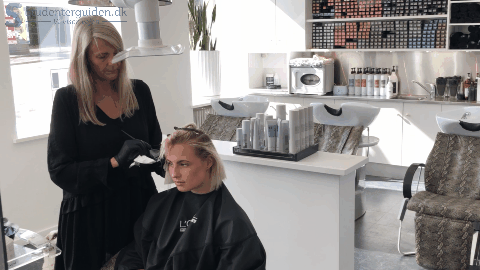 The salon , located in the heart of cozy Trøjborg, has an extremely elegant decor that creates the physical framework for a wonderful hairdressing experience that you will soon forget. Here in the salon you want that you as a customer get a slightly different hairdressing experience than what you might have been used to previously . Therefore Posins Barber made a barbershop and a lady salon in a single salon, and it is therefore also possible f or couple to go to the hairdresser together. However, you each get a unique experience, as the salon has a sharp division. The n one department is decorated in true shaving style, where a "man must be allowed to be man", and the other department is in the gown in beautiful, bright shades - specifically for the women. To go to the hairdresser, at Posins Frisør alts to be a very special experience.


Posins Frisør is a hairdressing salon that is very active on the social media - both on their Facebook and Instagram you will regularly find cozy updates and pictures of beautiful results from the extremely happy customers, where you can find inspiration for your next hairdresser visit. Posins Frisør is also a popular hairdressing salon among influencers!
src = "https://s.studenterguiden.dk/data/posins_gif_1.gif" />
When you sit in the hairdressing chair, you will have the opportunity to enjoy everything from a glass of ice cold water to a taste of a delicious coffee baileys! So you can expect a luxurious hairdressing experience in the salon , where every single detail has been thought of.
If you are looking for a new and unique hairdresser who weighs high quality, then we at Studenterguiden.dk can highly recommend you to visit Posins Frisør and "stay fine with Posin"!
---
---