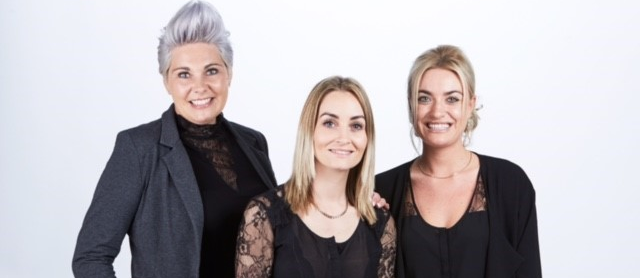 Lyngaa
Lyngaa is a hair salon in the heart of Odense, specifically Nørregade 69. In the salon you will find the owner Carina which has many years of experience as a hairdresser, and her three talented employees, all trained hairdressers. Common to them all is the love of hairdressing, and the importance of the proper guidance. The salon is cozy and you can always find a wide range of the latest fashion magazines and served coffee / tea while you wait.
Lyngaa has quickly become popular in Odense - not without reason. At Lyngaa you always get a treatment beyond the usual. Lovely bright rooms, sweet welcoming hairdressers - who does not compromise, even if they have very student friendly prices! All hairdressers in Lyngaa are often on courses and training, this helps to ensure the always high quality, and is also helping to create new inspiration - of course beneficial to you!

Treat your hair and yourself - make an appointment online!
Only the best products are good enough!
At Lyngaa puts great emphasis on the use quality products. Therefore, using the products from the household names Pure Nan and Artego. Pure Nan are delicious products that are completely free of parbener, sulfates and toxic fragrances. Besides being extremely delicious products, so it is important for Lyngaa that they are environmentally friendly. Artego known among hairdressers for very efficient properties. When you pay for a stain, it is important that the color lasts a long time and here is Artegos products of high class.
Customers say about Lyngaa:
Thanks to Line to transform my sad hair, to give it life and luster. She made the most beautiful reflexes and cut it SO nice. Subsequently, she gave advice about what products I should use to strengthen and protect my hair best. Felt really in the best professional hands. - Tine

Line has transformed my almost black hair to a delicious light brown / blonde hair with lots of light reflexes and the hair still has a mega nice quality, and are not damaged. Got simultaneously Olaplex treatment which can only be recommended. Line gives you a treat for the details and is mega good to advise on care and hair products. So I take the trip from Haderslev to Odense every time I need to have her hair done. Highly recommend this hairdresser - Cecilie
Studenterguiden.dk have only heard and read good about Lyngaa. Many of their customers come from afar, to get a haircut and service beyond the ordinary. Prices are very student friendly, and you really get full value for their money. We can highly recommend Lyngaa, whether a new hairstyle for the gala or on the fringe to be studses, it is done with expert hand.

You can already book your next time - online, easy and simple!

Permanent study awards:
Women kr. 395.-
Lord kr. 295.-
---
---