cold College
Cold College is a modern, non-profit educational institution that specializes in the area between land and table. This means that here you can find a variety of training courses in agriculture, food mm.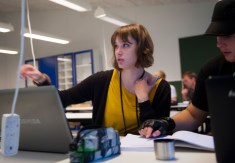 As a vocational school is their goal, in cooperation with industry, to ensure students acquire the skills needed in the labor market.
The school offers a variety of programs and courses that can be divided into three main areas:
• Education and Training (food, agriculture and dairy)
• Natural Science High School (HTX)
• Adult and continuing education programs across the spectrum from farm to fork.
At Cold HTX you get the opportunity to dress well on for example. read on to university. At Cold you get such a good basic education for training in veterinary medicine, engineering or similar.
From 2015 you can choose from 4 exciting study from Cold HTX:
Science - for applicants who want to study natural sciences, mathematics or engineering
International - you will proceed with the language, culture or international disciplines or be an engineer
Bioscience - for those who want to study psychology, chemistry or physical education
Biotec - for you who want a health professional who, doctor, pharmacist, nurse, veterinarian or the like.
Furthermore, you can at Kold College take one of vocational education. Here they offer so in the three areas for Foodstuffs, Agriculture and Dairy. You can thus take several courses that help you on your way to your dream program as; cook, baker, waiter, farmer, zoo keeper, gardener, dairyman and much more!
Finally, you can, in collaboration with Kold College take a college education, in cooperation with the Academy Little Belt, training and courses in the relevant subjects.
---
---
Address
Landbrugsvej 55
5260 Odense S
Contact info
Telefon: 63 13 20 43
Mail: koldcollege@koldcollege.dk
Educations
Website