identity hair
At Identity Hair on Overgade 31 in Odense, their focus is to make the salon treatment as environmentally friendly as possible. Therefore, using the only Organics colors, and Evos environmentally friendly products.
The Identity's goal that all customers get an experience of wellness, pampering and of course a professional engagement around your hair.

Read even a little further about their salon and team of talented hairdressers and take advantage possibly also the online booking system when you want to book an appointment.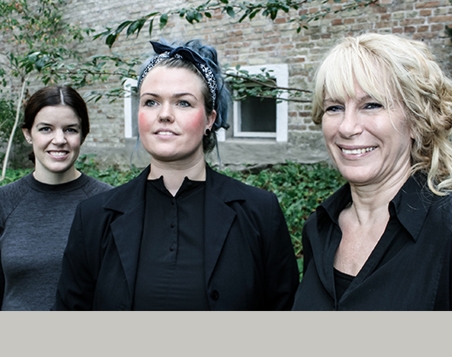 About salon:
In the salon you will find the owner Bodil which, with its almost 30 years in brancen, have complete control of everything that is happening in the industry. Bodil were trained in 1984 in Odense and has worked as a hairdresser in Svendborg and Odense as well as 5 years at Stuhr in Copenhagen and has inter alia taught at Stuhr School in Copenhagen, Norway and Sweden.
Bodil says: "My focus is the high level of service to all our customers, as well as high job satisfaction among my dedicated colleagues"
In the salon you will also find two assistants energy: Julie and Karina

Julie: I love the combination of the creative, while I have with people.
Karina: "I am always ready to inspire you and give advice to cut and color, etc."
No matter what you want from her hairdresser can identity hair be helpful. Here one can be clipped as needed whether it's a trim, or you go to the big gala dinner. Identity hair using only the best products for their treatments, so you are always sure your hair is in good hands. The salon is decorated so you immediately feel welcome, and you are always offered coffee / tea / water if you wish.

Identity Hair dealer bl. a second:
Evo:
A product line consisting solely of environmentally friendly products. The products contain no parabens or sulfates.

Moroccanoil:
Are unique hair products that are basseret of argan oil. They are filled with antioxidants and vitamin E + A. They make hair strong and adds moisture.
Organic color system:
-miljøvenlige colors
-contains not amoniak
colors may have basseret on natural ingredients
-provides an amazing shine

Apart from this dealer Identity Hair also GHD's stylers and blow dry and nail polish from Essie.

Studenterguiden.dk recommend hot identity hair, and it is certainly a place that is worth a visit.
---
---