IT-Vest - Odense
It-west as such is not an individual institution, but is a training and research collaboration between the University of Southern Denmark, Aalborg University and Aarhus University, which works to secure the three universities central position when it comes to IT programs and IT research .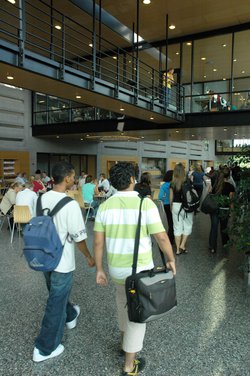 The three universities offer each of several IT programs and stand together behind half of all IT trained in Denmark. But the goal of the collaboration is to educate even more people who have the skills required in both the public and private industry - now and in the future.
Thus, they offer IT courses that are at the forefront of IT development and creates more interest around the subject. It-west cooperation, supporting research, initiatives, experiments and activities across universities, which can mean better education and more IT graduates from each university.
Among the areas it-west cooperation dealing with is:
• initiate and support the development of new IT programs,
• market cand.it. and other IT training,
• work to train more IT graduates
• strengthen cooperation between existing education and research,
• establish cooperation between universities and industry around IT education and research.
It-west cooperation has a special focus on the new, multidisciplinary postgraduate courses:
• cand.it. - Master's
• Master in IT - flexible training for highly skilled IT professionals
• Diploma in IT - training at the undergraduate level for example. computer science
• Master in ICT and learning - IT master training for teachers, educators, etc.
Read more on their website and find out more from the supervisor of the respective Universities.
---
---
Address
Åbogade 15
8200 Århus
Contact info
Telefon: 65 50 10 00/ 70 27 68 50
Website