Restaurant Rio Bravo
If you love Danish classics, then Restaurant Rio Bravo is very likely a place that will suit your taste. Here you will get large portions at reasonable prices in a pleasant setting in the heart of Copenhagen. Specifically, you will find Restaurant Rio Bravo on Vester Voldgade 86. This is a few minutes walk from the main train station, which is why you can get there quickly and easily.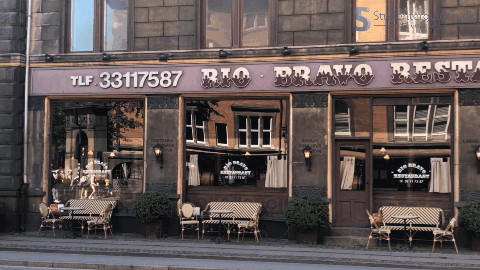 When you walk in the doors of Restaurant Rio Bravo, you will quickly notice the special decor, which is characterized by brownish and reddish shades. Robust wood furniture, subdued lighting and the red carpet that adorn the floor of the restaurant thus create the physical setting for a cozy atmosphere. The sweet staff will be ready to serve you and give you a good experience - from start to finish.
The menu card at Restaurant Rio Bravo is divided into a lunch menu and evening menu. If you are interested in tasting something from the evening menu until lunchtime, there is also the option.
If you visit the restaurant at lunchtime, you can choose from a large selection of sandwiches, as well as herring and fish. If you are a vegetarian, the restaurant also offers a vegetarian dish. If you come in the evening, you will have to choose from a selection of exciting starters, main courses and desserts. Here you will find everything from the classic shrimp cocktail to a good game of wienerschnitzel with fried potatoes and peas. If you have room for some dessert, pancakes with ice cream and jam or warm apple pie with vanilla ice cream may tempt you. The options at Restaurant Rio Bravo are many! You can also choose the 3-course menu that the restaurant has prepared for their guests in advance. This is a great opportunity for those who want the ultimate dining experience at Restaurant Rio Bravo. To complete the dining experience, choose from the many beverages offered by the restaurant. Here you will find everything from ordinary sodas and bottled beers to Old Danish, red wine and white wine.
Do you also live in Copenhagen and want to enjoy a good portion of food in a homely environment? Then you can also bring the most popular dishes from Restaurant Rio Bravo to your home. The food is brought out via Just Eat.
If you want to taste good game of steak bearnaise, chopped barbecue steak or other Danish classics in Copenhagen, then we highly recommend you visit Restaurant Rio Bravo. Here you will get delicious food and large portions in pleasant surroundings.
---
---