Nordic Yoga
Are you keen to learn and practice yoga? Then Nordic Yoga on Tolderlundsvej the best place in Odense for the purpose, both in terms of price and quality. At Nordisk Yoga you will meet an experienced and skilled team of 16 yoga teachers, as well as a hypnosis instructor and an occupational therapist. Nordic Yoga dates back in 1983, when they first saw the light of day in Odense. It is not just an exercise, but a whole way of life for the skilled trainers who live their passion through yoga and in their teaching. You are taken on a journey where you not only get renewed energy, your body will also be relaxed and come into balance, and you will feel an inner peace quite quickly.
When you attend a yoga course stops you up and give yourself a break. The mind gets quiet and you experience to be present here and now. In this calm you work concentrated with exercises for strength and flexibility, so you can go home full of energy and well being. Yoga is for everyone who would like to have a personal experience in a larger community for the benefit of an active life. The big, beautiful and bright rooms on Tolderlundsvej are designed specifically for yoga and pilates, forming a beautiful setting for teaching. There are non-slip mats, futonmadrasser, blankets and all the equipment to be used for the different types of yoga and pilates lessons. In addition, changing rooms, kitchenette and toilets.
Student discount on yoga - Read more!
At Nordisk Yoga offers professional yoga teachers teaching in a variety of yoga specialties. Nordic Yoga is a place where you can participate in quality education in the branch of yoga that suits you, eg .:
Hatha Yoga Vinyasa Yoga Mindfulness and Yoga Pilates Lyengar yoga Pregnant Yoga Hot Yoga Yin Yoga

The different training lessons is on all days of the week and during the period at 08:30 to 20:00, so you have plenty of opportunity to get it fitted into even a busy schedule. The lessons lasting 45 min., And there will not normally pauses between. Nordic Yoga also holds various workshops, where you can get an insight into the yoga world, whether you are a novice, has disabilities or is practiced, there will be hold exactly to you and your needs. You may be given a certificate if 80% of the course followed.
Want a body in balance, flexibility and relaxation, the Nordic Yoga is exactly the right place. The talented educators passionate about, to show what yoga can do for you, whether it is inner peace or renewed energy you seek, they have certainly the right to just you. We have Studenterguiden.dk only been able to find laudatory feedback, not only about the friendly and competent staff, but also about how great a difference people have been able to mark on the body after training.
Want to do something good for yourself and your body, notify Nordic Yoga.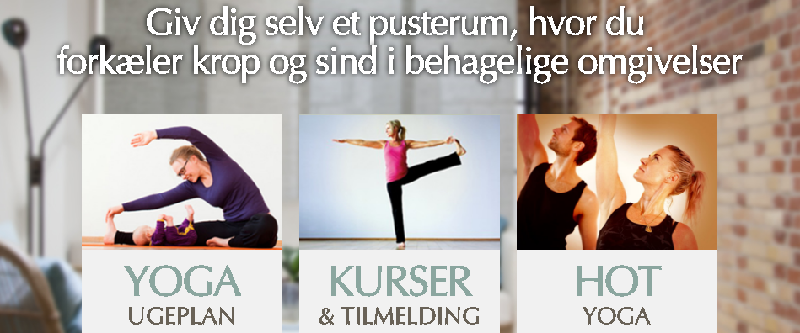 Student Discounts
At Nordisk Yoga gives you a good student discount!
---
---