Mother
Are you looking for an eatery in Copenhagen that serves delicious pizzas? Then we have found the place for you, namely Mother in the Meat Village. This is a place you should definitely look into if you plan on going out to eat Italian in Copenhagen. You will find Mother in Kødbyen on Vesterbro, and specifically at the address Høgerboderne 9-15.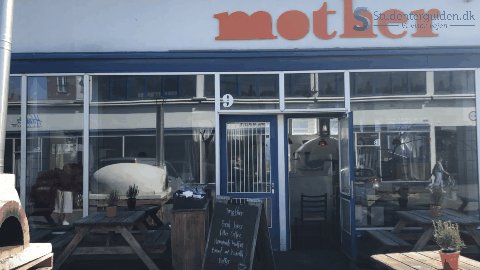 Going to Kødbyen is an experience in itself, and it is for this reason that the place is a popular spot in Copenhagen. It is an obvious place to go if you want to feel the metropolitan atmosphere in a very special way. Here you will find a large selection of different restaurants and nightclubs, of which Mother can be found among the former.
A pizza at Mother is not just a pizza. Here, the detail is really cool when preparing the pizzas. In order to create the most tasty pizzas, they are prepared by Mother in a stone oven. Furthermore, it is extremely important that the Italian food in the restaurant is served in the most authentic way. What sets Mother apart from so many other pizza places is the way in which the dough is prepared. For this, salt water is used. If the weather is good, you can enjoy your pizza outside in the exciting surroundings of Kødbyen. You can also choose to sit inside the restaurant and enjoy your food. Here the decor is rustic, creating the perfect setting for an "Italian dining experience".
When it comes to the selection at Mother, the menu is packed with Italian specialties. You can visit the restaurant in the morning, at dinner and in the evening. For lunch you can taste some of the delicious paninis, pizzas or pasta dishes. If you plan to come in the evening, you can very well indulge yourself with a 3-course menu to get the ultimate dining experience. When it comes to the selection of pizzas, you can choose from everything from the classic margherita, prosciutto and marinara to a slightly more special pizza that Mother calls 'David says it's even better'. The selection is large and you will certainly be able to find something that suits your taste. Want to try something new and different, you can also get brunch on Mother. You can enjoy this while listening to live music in the restaurant.
All in all, we highly recommend you visit Mother on Vesterbro if you want to pamper yourself a little extra. A combination of excellent pizzas, good location and cozy atmosphere in the meat village creates the framework for a dining experience that you will not forget late.
---
---