La Cabra
If you are looking for a coffee shop and a small bakery all in one, La Cabra is just the place for you. The coffee shop is located both at Graven 20 and at Aarhus Central Food Market. Here it is both possible to get a cheap and delicious breakfast as well as a fantastic good coffee. If you love good coffee and delicious breakfasts, then La Cabra is definitely the place for them.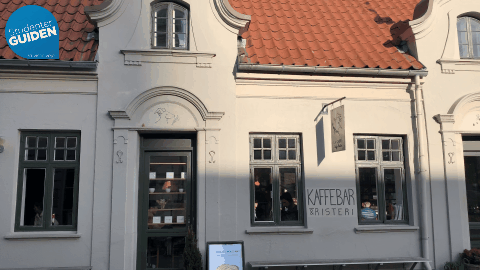 If you are looking for a delicious breakfast place in Aarhus, which does not cost too much money, then La Cabra is an obvious place to choose. Here you can get a morning supplement for just 55 kroner. This morning's breakfast includes sourdough bread, Arla Unika cheese, muesli yogurt and a glass of apple cheese. You therefore get a lot for the money. If you want to taste their extremely delicious coffee, you can get this in different variants for around 30-40 kroner, which is certainly also a reasonable price for coffee of that quality. If you want something for the sweet tooth instead, you can opt for a croissant, which also tastes great from La Cabra. Here the prices for both the coffee and the bakery are quite fair, and not at all expensive for a student.
At the coffee roastery, they even import their coffee beans from several origins. At La Cabra, it is an honor that this is done as thoroughly as possible, so that the result on the coffee is fantastic. One of the owners, Esben Piper, is most interested in this sourcing and composition of their coffee menu. The most important thing here is the coffee, and the concept involves this coffee mess.
The atmosphere you experience in the coffee shop is retro with a modern blend. Here you can sit and enjoy a good cup of coffee while listening to some nice music on the turntable.
In Aarhus, La Cabra is known as an extremely cozy coffee shop, and it is definitely worth a visit if you are a stroll past the city. In addition, the coffee shop has a central location both at Graven and at Aarhus Central Food Market.
The coffee holidays at La Cabra have won several awards abroad for their delicious coffee. In addition, their baristas have also won international barista championships. That is why you are assured that you will get good coffee while being served in the finest manner by their skilled baristas. The staff is extremely professional and dedicated to their work, and their joy in the work inflicts on the customers.
If you are looking for a coffee shop in Aarhus that serves great quality coffee in a pleasant setting, or if you are just looking for a place to eat breakfast at good prices, then La Cabra is definitely worth a visit.
---
---