Kinosalonen
Kinosalonen is Odense's oldest saloon which started in 1923 and is now running on the 4th owner. In 2003 took over Tina Grigoriou Kinosalonen his father. She collects its trend and techniques in Milan, is always ready with good guidance of hairstyles, style and color. She has chosen to run the salon ahead with organic products, and today is the salon 100% pure chemicals. It has been found to be a super success as allergy and eczema are often developed, via the hair color and the use of chemicals.

If you have questions, please feel free to contact Tina Grigoriou, who is always available across your wishes. So hop on the green wave and be good to yourself. Think of yourself, the environment and the future.

Book time online at kinosalon.dk and type in "STUDENT" in the notes section - So, you've ensured you 10% on your next treatment. (There is only given 10% if it is written in the notes section - and the treatment does not fall on Saturdays)
Studenterguiden.dk have even been lucky enough to take advantage of Kinosalonen and can 100% vouch for that you get a unique rock experience with excellent service, and especially long history. Prices are in the range considered (and that only organic products are used) very student friendly, and everyone on the SU can definitely helped. A very warm recommendation here!
You can book your next appointment now through online booking!
The cinema is one of Odense's oldest salons, which started in 1923 and is now continuing with 4th owner. In 2003, Tina Grigoriou took over the Cinema Hall after his father. She collects her trends and techniques in Milan, how many of the new trends arise and then conveyed to the salon. The staff are always ready with good guidance on hairstyles, style and color, generally just what suits you. She has chosen to continue the salon with organic products, and today the salon is 100% pure for chemicals. It has proved to be a great success, as allergy and eczema are often developed through hair color and the use of chemicals. Especially in our society today, as much more focus has been on how dangerous chemicals are and how important it is to take care of themselves and avoid too many of the kinds.
The lounge, which has been in Vestergade for 94 years, has now moved to Tina's private address on Damhusvej. Here she has long dreamed of expanding so she could have her salon in the front yard, and in the beginning of 2018 this dream came true when she finally could hit the new premises on 3 February. The lounge is furnished with both old and new fixtures, which also fit well in the modern lounge with its long history. Although the saloon has sought new pastures, it is still an "old" salon, with mass of soul and where history is preserved. Despite the vintage decor and the old stories, the new and modern have become a firm part of the salon's image, due to the organic and organic products. You will therefore receive a top-class modern treatment in a cozy and homely environment right in the heart of Tina's own front garden.

Do you have any questions, whether it's up to coming hairstyles, opening hours or just curious about the organic products the salon makes use of, feel free to contact Tina Grigoriou. She is always available towards the customer's wishes and needs. So join the green wave and be good at yourself. Think about yourself, the environment and the future.

Book online at kinosalon.dk and write "STUDENT" in the comments box - So you have secured 10% on your next treatment. (Only 10% will be given if the comment is written - and the treatment does not fall on Saturdays)
Studenterguiden.dk has been fortunate enough to take advantage of the Cinema Salon, and can 100% stand for a truly unique rock experience with excellent service, and not least long history. Prices are taken into account ( and only organic products used ) are very study-friendly, and everyone at SU has definitely been with. A very warm recommendation from here!
You can book your next time already online via online booking!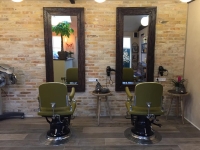 ---
---