HF + VUC FYN
HF + VUC Fyn is an institution that offers both youth and adult education, education and education preparatory courses from the lowest to the highest upper secondary level. - Courses can be taken in several cities across Funen and the islands, so there are training places; Faaborg Glamsbjerg, Middelfart, 2 places in Odense, Søndersø, Svendborg, Nyborg, Marstal and Rudkøbing.
HF + adult education based on their students are of all ages and that they should meet the need for many different people with different educational -udgangspunkt and level. Therefore, you can always be sure that this will be taken care of you, no matter what level you are at and how much education you need.
Every year, students of all ages and at all levels so attracted to the place and here they think that experience shows that it offers a particularly positive dynamics in the classroom when the very young and the elderly draw on each other's knowledge and approach for improving themselves.
On their website you can read more about the offer of subjects, level and organization.
But soon covered the following levels at the institution;
• 2-year hf
• tinted hf-course
• hf single
• general adult / avu
• Preparatory Adult Education / Adult Education
• dyslexia education / OBU
• teaching out of the house - "tailored" as required.
• distance learning.
Furthermore offers the development and training for those who need a professional supplement in the form of adult education centers offer.
No other institution has as many options as adult education, when you want some training together for personal needs for supplementary courses. This applies to education, discipline, time and duration. Adult Education Centre has also developed its team offers, so teaching can be combined with or even appear as individual workshop training or self-study.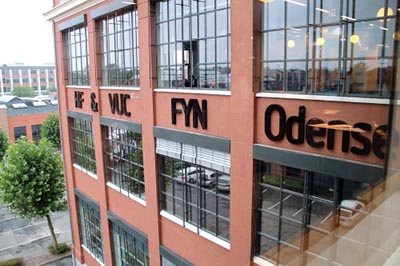 ---
---
Address
Fællesadministrationen
Kottesgade 6-8
5000 Odense C.
Contact info
Telefon: 62 65 65 50
E-mail: post@vucfyn.dk
Læs mere om de lokale afdelinger på hjemmesiden.