Boomerang Pizza
Are you in Kolding and hungry, the then you definitely past Boomerang Pizza. Here you get a variety of pizzas , high quality, and on the inviting menu, you will also find delicious homemade Durum with kebab and chicken, juicy American burgers, fresh salads and wonderful sandwiches with either ham, chicken and kebabs.
Boomerang Pizza is on Låsbygade 24 in Kolding, right between Koldinghus and Queen Dorothea Theatre. A few minutes walk away is Slotssøbadet, so after a good swim, you can indulge say even with a small snack at Boomerang Pizza. The great reviews on Hungry.dk bear witness to a welcoming and service-minded staff, crispy and tasty pizzas, and fast and friendly messengers.
The big star of the menu is pizza, the Italian crisp bottomed pizzas available in 4 different sizes, from small children's pizza and the big family pizza. The US and well-prepared deep dish pizzas with the right curved saturates most mouths, and if you like baked pizza, obtain the course here. Among the most popular dishes, you will find El Paso with beef, pepperoni, sausages, jalapenos, bacon, chili and garlic and the great homemade Durum with kebab, beef, cheese, onions, jalapenos, chili, garlic and sour cream dressing.
The fresh messengers of Boomerang Pizza Delivery is quick and easy meals right to your door, and the friendly staff is also like with the food at the address Låsbygade 24 in Kolding, if you wish to download.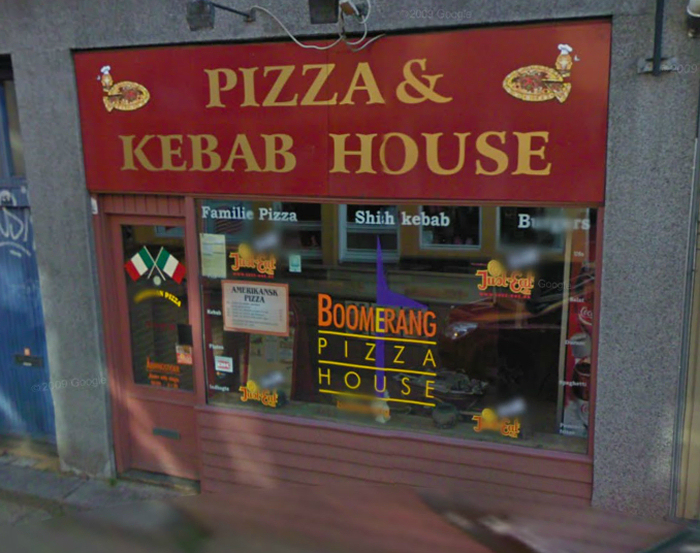 ---
---