Best Cocktail Bar
Copenhagen exudes bars and other exciting places where you can go in the city. Therefore, it can often be difficult to find out which places to visit. Are you crazy about delicious drinks at great prices that you can enjoy in cozy surroundings? Then Bæst Cocktailbar will definitely be a bar that falls into your taste. You will find Bæst Cocktail bar in the basement of Klosterstræde 21 in the heart of Copenhagen.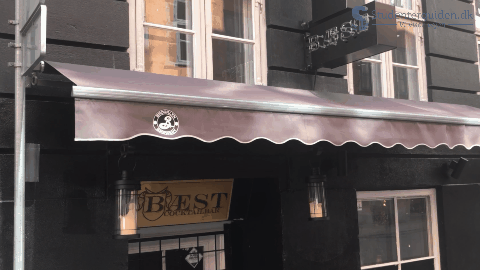 Who doesn't love good drinks at student-friendly prices? At Bæst Cocktailbar you get this! It is an exciting "basement bar" where you really get the money. The bar is open Thursday, Friday and Saturday, and before 22:00 you can get 2 identical cocktails for 1 drink price. This is something that most students will consider as a great deal. When you visit Bæst Coctail Bar, you will also quickly notice the rustic decor and the subdued lighting, which creates the perfect setting for a good "walk in town experience" in Copenhagen.
The cocktail card at Bæst Cocktailbar offers a bit of everything. Here you will find both a selection of classic drinks that most people know about and a selection of exciting drinks that are designed to suit the season. When it comes to the classic drinks, this is about everything from a good old fashioned, whiskey sour and crimson ruby to the beautiful espresso martini that we often see in the cityscape. The selection of drinks is great, and you will most likely find a cocktail that falls into your taste. Whichever cocktail you choose, you can be sure that the bartenders have pampered the detail. Thus, at Bæst Cocktailbar, drinks have been developed that both taste great and look good. It won't get any better.
If you are looking for a cocktail bar where the ingredients of their cocktails are cuddled, then Bæst Cocktail Bar is the place for you. With its location in the inner city, Bæst Cocktailbar is an obvious place to go for the first drinks before the trip continues. Here is a really relaxed atmosphere with quiet music and subdued lighting, where there is ample opportunity to talk and enjoy the tasteful cocktails from the cocktail card. We can therefore recommend that you take your fellow students under your arm and visit Bæst Cocktail bar if you are planning to go out in Copenhagen's nightlife.
---
---
Address
Klosterstræde 23, 1157 København K
Contact info
Telefon: 69 69 20 28
E-mail: bestyrer@baestbar.dk
Opening Hours
Mandag: Lukket
Tirsdag: Lukket
Onsdag: Lukket
Torsdag: 19.00 - 02.00
Fredag: 19.00 - 05.00
Lørdag: 19.00 - 05.00
Søndag: Lukket
Website
https://www.facebook.com/baest.cph/