Street-Cut
Street-Cut has today no less than four hairdressing salons distributed in Copenhagen. Here are working more than 20 hairdressers, all designed to give you the best possible treatment.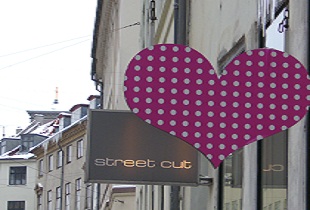 The many different types hairdressers ensure that your particular style is highlighted and taken into account. - You can always be sure that there is a hairdresser who knows exactly the style you want.
Street-Cut has existed for no less than 20 years and has always endeavored to satisfy their customers and help them get their wants and needs met. When you come into one of their salons, you're never in doubt that it is you who are the focus. For them it is important that you get an experience filled with luxury and not just a haircut. - Then come into one of the city's Street-Cut and get yourself a much-needed respite.
Prices from:
Cut 270,00
Wash - Cut 290,00
Wash - Cut - Foehn 320.00
---
---
Address
Rådhusstræde 3
1466 København K
Contact info
Telefon: 33 12 33 35
Opening Hours
Mandag - onsdag: 09.00 - 17.30
Torsdag - fredag: 09.00 - 18.30
Lørdag: 09.00 - 13.30
Søndag: Lukket
Website