PARK Styling
Are you looking for a new hair salon where the hairdressers are passionate and have control over what they do? Then PARK Styling in Kolding is a hair salon that you should definitely look into. Here are your lures in safe hands. You will find the beautiful salon in the heart of Kolding on Østergade 9.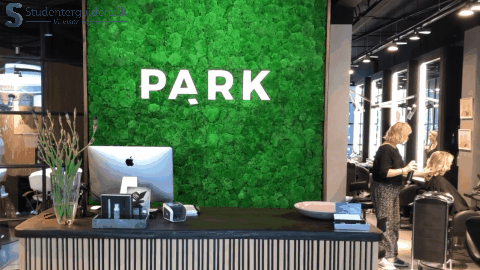 We know it can be difficult to find the right hair salon. The hair salon that makes your hair look exactly the way you want it. Therefore, we recommend that you take a closer look at the salon PARK Styling in Kolding. Here you will find a team of highly skilled hairdressers who inspire each other daily with the goal of giving their customers a wonderful and professional experience in the hairdressing chair.
When you step in the door of the PARK Styling salon, you will first and foremost be greeted by a smiling staff, but also a beautiful salon, where it is evident that the detail of the decor has been cuddled. PARK Styling is a beautiful salon, and the styled interior design helps create the perfect setting for a good hairdressing experience. All you have to do is sit back and enjoy the hairdressing experience with a cup of organic coffee carefully selected by the bar.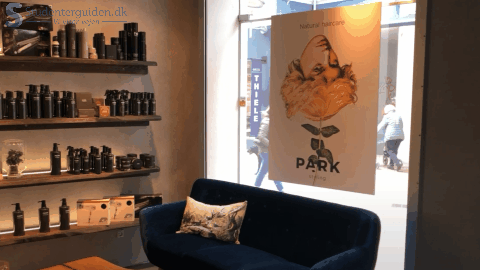 PARK Styling highly emphasizes the professional level of their hairdressers, so they focus on continuous training of their skilled hairdressers. In the salon, emphasize that the hairdressers are updated on the latest hair trends, which only benefits you. So you meet a team of passionate hairdressers, so you at PARK Styling are in very safe hands.
When it comes to the hair products that the salon uses, you can be sure that PARK Styling uses only products that are gentle on you and the environment. Salonen has their own range of products under the brand 'PARK', and has a large selection of different types of products for different hair types. So in the product range there will be something for every hair type, whether you have very long hair, thin hair or suffer from hair loss.
What makes PARK Styling a very special salon is that the salon also emphasizes sustainability very highly. This shows the hairdresser chain through various initiatives, where their own return mortgage system in particular is interesting. An empty packaging from the PARK brand has a value of DKK 20 when it is empty. You will get these DKK 20 back when you hand in the empty packaging in a PARK styling salon.
PARK Styling is a hairdressing salon in Kolding, which attaches great importance to protecting the environment, and is a salon, which is certainly something for you that appreciate high professionalism. If you do not have the opportunity to visit the salon in Kolding, fortunately there are also PARK salons in a number of other Danish cities. Among other things, Randers, Herning, Horsens, Vejle, Fredericia, Sønderborg, Odense and Holbæk. If you cannot find your city, we can highly recommend you to visit the salon's own website to read more.
---
---
Address
Østergade 9, 6000 Kolding
Contact info
Telefon: 75 53 80 08
E-mail: kolding@parkstyling.dk
Opening Hours
Mandag: Lukket
Tirsdag: 09.00 - 17.30
Onsdag: 09.00 - 17.30
Torsdag: 09.00 - 19.00
Fredag: 09.00 - 17.30
Lørdag: 08.00 - 12.00
Søndag: Lukket
Website
https://da-dk.facebook.com/parkkolding/