Only - Copenhagen
Only is part of the clothing group, Bestseller, which has a large selection of stores that cater to different audiences. Only has existed since 1996 and has over 300 stores worldwide. You will find Only in Copenhagen, for example, at the address Vimmelskaftet 34.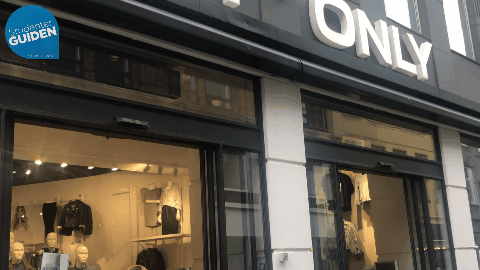 Only caters primarily to slightly younger women, from their teenage years and into their 20s. If you shop in Only you are smart, you have a sense of fashion and love denim. Only is a brand that caters to the feminine sides of women, while keeping the cool and casual style in focus. Denim is a pervasive material and otherwise the style changes all the time. Only is a brand that you can go into both everyday and party, and feel comfortable in both contexts.
You have the opportunity to buy both everything from lingerie to outerwear, and then everything in between. These are both pants, tops, sweaters, dresses, shoes, skirts, sportswear and accessories. So you can actually buy everything you need for your wardrobe if you just walk into Only. In addition to being fortunate enough to be able to shop for only clothing in three places in the city, it is also possible to shop for clothes online. Then you can order all their delicious clothes home without having to go to one of the shops.
Of course, as denim is one of the things they love most, they also have a lot of different denim pants to choose from. So whether you are into high-waisted, low-waisted, skinny jeans, ankle jeans, mom jeans or regular fit jeans, they are available at Only. So don't hesitate, but hurry up and renew your wardrobe today.
The prices at Only are clearly student-friendly, which is clearly an advantage for you as a student who needs some new clothes. If you are looking for a place where you can buy a gift for your girlfriend, sister or a third party in need of pampering, then you can definitely find a great gift at Only.
---
---