Barber Gala
Do you go in with Barber Gala on Vestergade in Roskilde you will find here a cozy and intimate family salon where there is room for all types.
Salon cozy decor makes you relax and enjoy a complete experience of pampering. Thus, you can while you get your treatment enjoy a cup of coffee, tea, beer or red wine, depending on what the mood is.
The salon is for all ages, and in the salon, it is important that children enjoy themselves and feel comfortable while they are in the hairdresser's hands. Therefore, there is a wealth of possibilities for the entertainment of children, such as comics, cartoons and more.
So are you looking for an uncomplicated, simple but good hairdresser should be way past hairdresser Gala in Roskilde.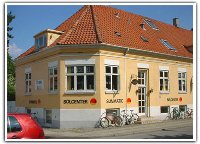 ---
---
Address
Vestergade 39
4000 Roskilde
Contact info
Telefon: 46 32 82 82
Mail: info@galla.dk
Opening Hours
Tjek hjemmesiden eller ring.
Website