Zara - Copenhagen
Do you love clothes that follow the latest trends but which at the same time do not hit the monthly budget? Then you may be passing Zara. If you are unfamiliar with Zara, then it is a Spanish brand that is gradually gaining ground in many different countries and cities. In Denmark you will find Zara in Copenhagen and in Odense. In Copenhagen, Zara has several stores, including. in the middle of Strøget, namely the Vimmelskaftet 28.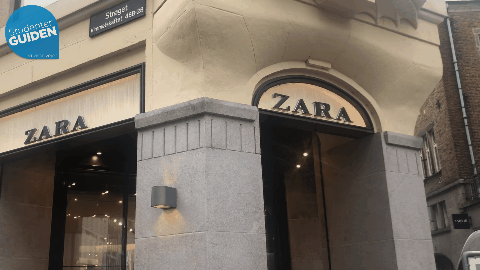 Back in 1975, Zara opened its first store in northwestern Spain and the brand has grown tremendously since then. You can therefore find Zara in many different countries and cities today. Zara is always a sure winner on a shopping trip. Undoubtedly. There is something for everyone here - for both women and men. The brand always keeps itself updated with the latest trends in the market, and there will be something for the very young, but also more mature women and men. The style at Zara is quite wide and therefore there will be a lot of simple styles, many of which are basic items, but you will also be able to find some more daring items that can add something new and exciting to your wardrobe!
However, Zara not only offers clothes. The brand also has a number of other products in the range that may be to your liking. Are you missing new shoes? A bag? Sunglasses for the next summer vacation? Jewelry for the next party or a fragrant perfume? Zara can help you too! Brand has a huge selection of great accessories that can help give the final touch to your next party outfit.
The quality of the clothes at Zara is high, considering the good prices. Many of the items you will find in Zara are payable. However, there will also be some items where prices may also be at the slightly higher end, which you should be aware of before shopping at Zara. If you do not have the biggest surplus in your budget, then you can also take a look at the discounted items in the store. In Zara, you will typically find a corner with a lot of discounted goods where you are very likely to make a really good purchase or two.
When you step into a Zara, you will quickly notice the very modern décor. White floors, walls and a lot of mirrors adorn the decor. There is a full focus on highlighting the many different styles in the store .. The premises are definitely going to inspire you. In addition, Zara always has many comfortable trial rooms that have a reasonable size. So you can be sure that the brand has done its best to ensure a good shopping experience.
If you want to stay up to date on the latest news from Zara, you can follow their Instagram profile. Here you will find a lot of inspiring pictures of exciting items and great styles.
If you love clothes that follow the latest trends and are affordable, then you may have to go past a Zara the next time you shop. Their selection is large and therefore you can easily spend a lot of time inside their stores. Zara offers a huge selection of clothes, shoes and a lot of different types of accessories. If you do not have a Zara near you, you can check out their webshop. Here you can shop while enjoying a cup of coffee on the couch. It hardly gets any better if you ask us.