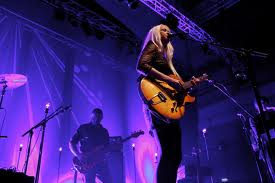 Forest Rock on Skråen in Aalborg
On June 17 closes the cozy music venue Skråen in Nordkraft up for a series of concerts called Skovrock taking place over the summer, Fridays and Saturdays. The place is nice intimate as there is room for approximately 1,100 audience more, by standing and seating.
It's Kim Larsen & Kjukken who are the first on the scene. The price this evening 295 kr. Otherwise presents the names of Power Corridors, Tina Dico, Bryan Ferry and Boyzone. Prices start at 50 kr. Skråen by night is an event that starts 22:30, ie after the concerts. This is the newer bands, great party bands and surprises. By night is free for those who have been to the concert before, or the price 50 kr. Tickets purchased at the door. St. Hans evening there is also a cozy arrangement of Skråen. There are bonfires, båltale and A Friend In London gives concert. It is June 23 at. 19:00 and it's free. See the full program on Skråens website.