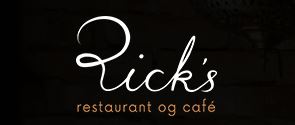 Restaurant Rick's
Do you miss a place where you can escape everyday stress and I? A place where there is a relaxed atmosphere, a nice decor and leaking food. Then Rick's Restaurant and Café is the place for you. The restaurant is named after one of the main roles in the film classics Casablanca, where Humphrey Bogart and Ingrid Bergman play the lead. The atmosphere and decor are also influenced by this, as there are, among other things, pictures on the walls of the film classic. In addition, the restaurant has a pianist who often plays music from the movie. In addition, he plays jazz and other classics from the 1940s where the film is playing.
It's no coincidence that it just became the Casablanca film, which is located in Morocco. The restaurant and the café owner are from Morocco, which is also inspired by the food. One of the specialties from Morocco, which the restaurant offers is Moroccan Tagine. The dish is a simulation made in a specially glazed clay dish with a conical lid. The dish consists of a kind of meat, either chicken, fish or meat, cooked in the dish with spices, herbs and vegetables. You can also order other delicious Moroccan dishes with bread or potatoes. Grilled meat and fresh fish are also part of the dishes you can enjoy at Rick's. Kemia / Tapas is also a big part of the menu, so you can get a lot of small dishes that you can enjoy in the restaurant's cozy surroundings. If you do not know what to choose or what fits well, do not worry, Rick's has also made some delicious menus for you and your taste buds.
It is also possible to book the restaurant or café for a larger company. Here you can make sure your guests taste a lot of delicious food in a relaxed and cozy setting, with a touch of 40's charm and classical atmosphere. If you wish, you can read more on Rick's website or contact them via email or phone.
Another reason to visit Rick's is their classic mint tea, which is a classic drink in Morocco. But can not go to Morocco without tasting mint tea, so it should of course also be a part of the menu. Coin tea consists of fresh mint leaves and green tea, after which some sugar is added to give the tea a sweet, but lovely refreshing taste. So if you are in Aarhus, finally go past Rick's Restaurant and Café, to experience the good and cozy atmosphere as well as taste delicious Moroccan dishes. If it's not the big hunger that's pushing on, go inside to taste the delicious mint the. It may be hungry will sneak everything in while enjoying your tea.