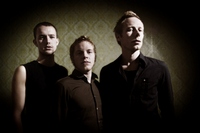 Puma at Teater Momentum
The Norwegian award winning rock, free jazz and electronic band Puma guests Teater Momentum. The concert is organized by the Association earwig, which specializes in arranging concerts in Odense with music by the innovative and provocative kind.
Sunday, May 4 at. 21 (doors open at. 20) entre 40 - Expect juice, power, noise and a performance full of energy! Puma is both audiences and critics been compared to bands such as Super Silent, Moha and Scorch, despite the comparisons are Puma a band with its own unique sound and style. Their live shows and appearances is not easy to characterize, but the audience will surely experience the improvised music of the intense and sincere kind. And with a unique balance between accurate timed rhythmic patterns and boundless free-floating voltages. Puma in 2006 was awarded the prestigious prize in their home country Norway as the year's young jazz musicians and has since released two albums - isolationism in 2007, and this spring they are again ready with a brand-new album.