Lundquist Studio
Are you interested in visiting an environmentally friendly hairdressing salon that places great emphasis on high quality? Then Lundquist Studio is definitely a hair salon that will fall into your taste! Here stands the proprietor, Majken Lundquist, ready to give you a good hairdressing experience! You will find Lundquist Studio in the heart of beautiful Aarhus at Frederiks Allé 118, 8000 Aarhus C.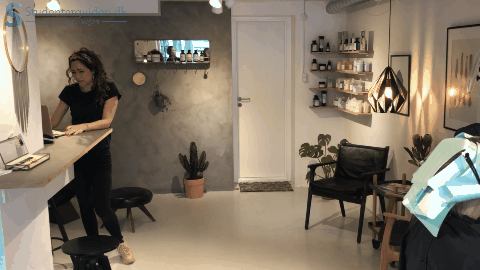 When you step into the cozy salon, located in the middle of Frederiksbjerg, you will be welcomed by a smiling Majken Lundquist, who strives to give her customers a unique experience. For her , a haircut is not just a haircut. A hairdresser's visit to Lundquist Studio, on the other hand, is a very special experience, where the personal presence between you and Majken Lundquist is essential for the good hairdressing experience. It is very important for Majken that you leave the salon with the feeling that your hair has got the right expression that suits you and your personality.

When it comes to the interior of the salon , you are not in doubt for a second that Lundquist Studio exudes personality! The raw brick and the beautiful decor of the salon is to create the perfect environment for a safe and professional hairdressing. In the salon is all your desires that are in focus and in cooperation with Majken Lundquist will jointly be able to find the right expression, then you are happy with the result. You do not get a student discount at Lundquist Studio, but on the other hand you can be sure that you get a good and durable high-quality haircut, which they hold for twice as long!
Lundquist Studio opened its doors for the first time back in 2018, so the salon is relatively new, but already very popular among the many happy customers! For this reason, waiting times may also occur, which is why is a great idea to book a time with Majken Lundquist well in advance if you know in advance that your hair needs a loving hand. The proprietor has many years of experience in the hairdressing industry and is curious to learn more about why she often attends courses that will of course benefit you!
Are you interested in getting nice updates from the salon, where also pictures of the beautiful results that Majken Lundquist creates, then you can also follow along via the salon's Facebook page or Instagram profile . If you think the salon Lundquist Studio sounds like something to you, s & aring; we can highly recommend you at Student rguiden.dk contact the salon and book a time!
You can read more about which treatments you have the opportunity to choose from at the salon's website.