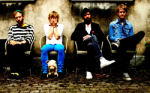 Culture Machine Festival in Odense
On the occasion of Kulturmaskinens 1st birthday slid on 7 May once in the three-day Culture Machine Festival, which offers a wealth of well-known artists who are ready to rock.
During the day on Friday and Saturday there will thus be a focus on good experiences for the whole family in Colour farm, while in the evening turned into a big party, with different music on the two music scenes in the magazine and the Great Hall. With the large outdoor space has culture machine also had a unique opportunity to make continuous indoor and outdoor event. This year's headliners are The Rumour Said Fire, which is probably just now is Denmark's most talked about band, and has just won P3s Gold Talent Award. So come and join us for a great party that is addressed to all people. Admission is free to all events in Colour farm, but there is appearance on the concerts in the Great Hall and the magazine. See the full program on Kulturmaskinens website.