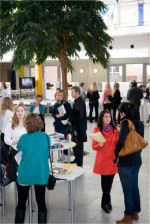 Open House at Aalborg University
Wednesday, March 3 from pm. 9 pm. 15 beats Aalborg University doors to university prospective students, and they can here have a unique opportunity to get a taste of dream studio.
The event offers more than 60 different humanities, social sciences, engineering, science and health education. Those interested can get information and guidance on the studies academic content, form of study, study, and the various options during the study. One can hear about opportunities for internships trips abroad and career opportunities. Not least offers event at many different educational presentations, and visitors can obtain knowledge in the stalls where the student counselors from the various fields of study are ready to answer questions. In addition, the Central Student, Career Centre and admission course be present, so the visitors can get answers to questions about admission rules and entry requirements, SU, housing, employment opportunities, supplementing opportunities etc. The event takes place on Fredrik Bajers Road 7 and Kroghstræde 3. To find more information on the event website.